"The owner is reported to have said some incredibly offensive racist statements that were published. I don't think I have to interpret those statements for you; they kind of speak for themselves. When people — when ignorant folks want to advertise their ignorance, you don't really have to do anything, you just let them talk. And that's what happened here."
(
Pres Obama
said at a news conference in Kuala Lumpur, Malaysia, on Sunday)
Now ready to return to my blog -- was going to do Oklahoma politics today but I have to add my two cents on the racist comments of Donald Sterling, owner of the NBA Clippers. His racist comments keep piling up as more audio is released. Never been my favorite owner as I never felt until he drafted Blake Griffin from the University of Oklahoma that he was not serious about winning anything. He just hired Doc Rivers to coach this year. Now the team and Doc find out just how racist of owner they work for today. Don't think the NBA has any choice but to act against Sterling and come down hard. If I was in charge of the NBA, he would be forced to sell the franchise as there is no room for a racist owner in the NBA or any other sport.
My recommendation is that my favorite basketball player of all time, Magic Johnson, put a group together to buy the Clippers. I see Michael Jordan sitting on the sideline of the Charlotte Bobcats and think how great it would be to see Magic on the sidelines of the Clippers to go along with Larry Bird of the Indiana Pacers. Another Johnson/Bird/Jordan rivalry would be awesome for the NBA.
To be fair to the Sterling family I am going to include his
wife's comments
as she is as furious as anyone with the scumbag. Note his wife of 50 years
is suing his mistress
calling her a gold digger (no kidding). Her family is being maligned because of her 80 year old husband is racist who said what he believes.
Donald Sterling's wife joined the chorus of hostile voices condemning her husband's "racist comments" and "despicable" views.
The disgraced owner's wife, Shelly, released a statement Monday distancing herself and ripped into her"estranged" husband.
"Our family is devastated by the racist comments made by my estranged husband. My children and I do not share these despicable views or prejudices. We will not let one man's small mindedness poison the spirit of the fans and accomplishments of the team in the city we love. We are doing everything in our power to stand by and support our Clippers team."
The remarks came a day after Shelly Sterling sat in the same court side seat she and her husband sat in Friday night, right across from the Clippers' bench. This time, Mrs. Sterling was alone and dressed in black.
It is mind boggling for an owner to be such a racist scumbag in the NBA but somehow it doesn't shock me out of him. What is surprising is that he was very vocal on the phone with his mistress on his contempt for blacks. Clippers are
losing sponsors
over his insulting racist comments and could bankrupt the team. Better for the NBA to step in now and force him out before the franchise tanks in total and coaches/players start leaving:
"CarMax finds the statements attributed to the Clippers' owner completely unacceptable," the company said in a statement through public relations manager Catherine Gryp on Monday. "
These views directly conflict with CarMax's culture of respect for all individuals. While we have been a proud Clippers sponsor for nine years and support the team, fans and community, these statements necessitate that CarMax end its sponsorship."
Virgin America said in a statement that it was cutting ties with the team "while we ncontinue to support the fans and the players."
State Farm, Kia Motors America and Red Bull have condemned the alleged remarks, and said they will suspend their sponsorship and advertising obligations, closely monitor the situation and assess their options.
After a team meeting where the Clippers players and coaches met it was decided quickly to play the game BUT in protest they took off their warm up jackets and threw them in the center of the Court.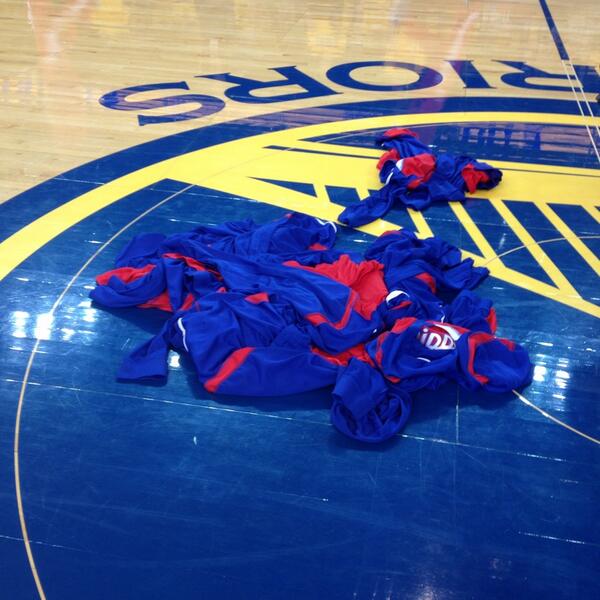 After throwing their outside Clipper jackets at center court, they warmed up for 20 minutes in their shirts turned inside out.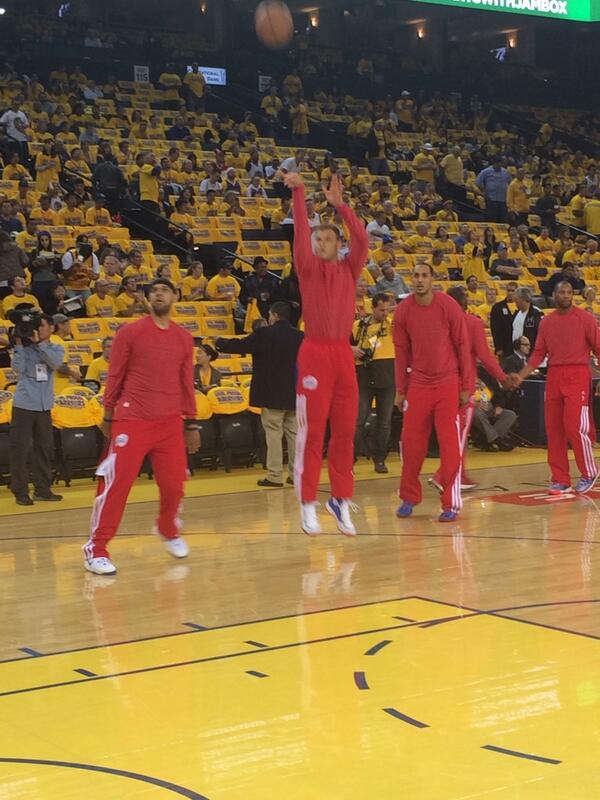 This protest was a way for the team to show their disgust with the owner after a team meeting.
Coach Doc Rivers led the 45-minute meeting and several players, including

Chris Paul

and

Blake Griffin

, spoke and voiced their anger after hearing the nearly 10-minute audio tape, which was released by TMZ on Friday night. The possibility of boycotting Game 4 of their first-round series against the Warriors was raised but quickly dismissed.
"I thought we needed to talk about it because everyone else is and so we needed to talk about it and all things came up," Rivers said. "We've heard all the stuff, the boycotts and all the stuff and all those things are things you could do but we choose to play and we're going to play tomorrow. ... It was brought up because I'm sure 20,000 people have suggested it but honestly I'm completely against that and they were, too.
"Why should we let someones comments stop us from what we're trying to do? We're trying to do something here and we don't want that getting in the way of what we're trying to do."
Rivers spoke on the matter on behalf of his players. Paul and Griffin addressed reporters but refused to answer questions about Sterling or the audio tape. Paul did release a statement on the situation through the NBPA.
Conservatives just could not let this go and called Sterling a Democrat because in the early 90's he donated to former NBA star Senator Bill Bradley and Gray Davis in CA as some of his few donations. Of course this led the conservatives bloggers to go nuts calling him a Democrat and not checking any farther but once again they were wrong in the final analysis:
Mother Jones
reports:
Not that Sterling's broader political views or party affiliation have much to do with the controversy over his insanely racist comments, but here's a news flash for those conservatives eager to bring up the topic: He's a Republican.
On Sunday, Michael Hiltzik, a Los Angeles Times columnist, tweeted that local voter records show Sterling to be a registered Republican "since 1998." We followed up on that, and a search of the Los Angeles County Registrar-Recorder's website for Sterling's name, date of birth, and address confirmed that he's registered as a Republican:
Bottom line is that Donald Sterling is without a doubt a racist and deserves to lose ownership of the NBA Clippers. Nothing less will be good enough.