Oklahoma Governor Mary Fallin is taking the first step in bringing the State of Oklahoma fleet of vehicles into the 21st Century with taking delivery today of 242 Compressed Natural Gas (CNG) Pickup Trucks. Cannot even fathom the amount of money that will be saved by OK State Government over the years by not having the large bills for gasoline used to power the fleet. All I know is when I drive by the CNG fill up station in Norman, the price per gallon is around $1.25 compared to over $3.45 for regular gas.
City of Norman is converting to CNG garbage trucks. University of Oklahoma started the trend as the only CNG station was on the North Base of the University as they converted to CNG for their vehicles except the big semi's used for athletics. Then it spread to the City of Norman for its vehicles and now State Government. CNG fill-up stations have sprung up around Oklahoma.
Was so happy to see that Governor Fallin counted this a priority when she took office. She started working with Democrat Colorado Governor Hickenlooper - since then other states have joined in the effort to convert state fleets to CNG to save a lot of money. Maybe the Federal fleet of vehicles should be doing the same thing since it is a lot cheaper.
Last year (2011) , Oklahoma Governor Mary Fallin, a Republican, banded together with Democratic Governor John Hickenlooper of Colorado to propose a multi-state initiative to add natural gas vehicles to state fleets.
The initiative has gained support from governors from thirteen other states, and in April this year those governors sent requests to major automakers to express their interest in the vehicles.
That 15 states has now grown to 22. The winning bid was announced in the fall and now Governor Fallin has taken delivery of 242 Dodge Ram trucks for the State Fleet. This is a perfect example of what can be done when Governors of both parties meet and work for the common good of their states. Shame the obstructionist in Congress don't see the value of working together for the good of America.
We may have our crazy politics in the State Legislature and some of the people sent to Congress. We also have some forward looking leaders. A lot of our electricity comes from
wind farms
owned
Oklahoma Gas & Electric who is also instituting the smart grid
with smart meters in four years with stimulus money instead of five. It has become a model for other power companies. OGE with wind power will not have to build new coal fired power plants - green energy is alive and well in Oklahoma.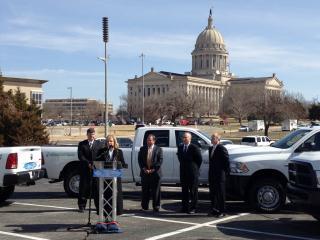 Oklahoma Governor Mary Fallin: "
An exciting day as we accept delivery of
CNG Dodge Ram trucks that will be used by
@
OKDOT
& other state agencies!"
Chrysler Group LLC Begins Delivery of 242 Ram Compressed Natural Gas Pickup Trucks to State of Oklahoma
March 6, 2013 , Auburn Hills, Mich. - Chrysler Group LLC announced today that it has begun the delivery of 242 new 2013 Ram 2500 Compressed Natural Gas (CNG) pickup trucks to the state of Oklahoma, the Company's largest customer order since production of the unique trucks began in October.
Peter Grady, Vice President of Network Development and Fleet – Chrysler Group LLC, presented the keys to one of the Ram 2500 CNG pickups to Oklahoma Governor Mary Fallin today at the Oklahoma Department of Transportation (ODOT) in Oklahoma City.
The Ram 2500 CNG is the only OEM-built compressed natural gas-powered pickup truck in North America. ODOT will use the Ram CNG pickups primarily as service trucks on the state's roads and highways.

Gov. Fallin is leading a bipartisan coalition of 22 states seeking to use more CNG vehicles in their state fleets. CNG-powered trucks offer cost and emissions benefits, using an abundant, domestically-sourced fuel, which reduces America's dependence on foreign oil. CNG lessens the environmental impact of greenhouse gas and reduces smog-producing pollutants up to 90 percent.



The governor announced the CNG project at the inaugural Governor's Energy Conference in 2011. Since then, Gov. Fallin has worked with other state officials and governors, met with automobile manufacturers, including Chrysler Group, and issued and received bids for more affordable CNG vehicles for use in state fleets.
"Chrysler Group is delighted that we can deliver these unique Ram pickup trucks today to Gov. Fallin, a steadfast champion in the use of compressed natural gas vehicles in state fleets," Grady said. "Through the governor's tireless efforts to form a coalition of states, 13 Ram Truck dealers have landed contracts with 19 states to supply their fleets with the new Ram 2500 CNG pickup trucks."

The Ram CNG pickups delivered today were purchased by the state of Oklahoma through John Vance Motors, a Chrysler Jeep Dodge Ram Truck dealership in Guthrie, Okla., north of Oklahoma City.

"Converting the state's fleet to CNG will save taxpayers millions of dollars in fuel costs," Gov. Fallin said. "The use of cleaner-burning CNG fuel is good for the environment and promotes Oklahoma-made natural gas which in turn supports the creation of more Oklahoma jobs. Our multi-state bidding process was aimed at encouraging automakers to provide states with more affordable and more functional CNG vehicles. We are very thankful for the team at Chrysler for their help and leadership throughout that process. The state of Oklahoma is excited to add quality CNG trucks to our state fleets from manufacturers like Chrysler."

The Ram 2500 CNG is actually a bi-fuel vehicle that uses compressed natural gas as its primary fuel source, but automatically switches to gasoline when the CNG tanks are emptied. In use, the Ram CNG transitions from one fuel to the other with little discernible difference in operation or capability.

"These are heavy-duty trucks and we have highway crews in every county in the state who will put them to work immediately," said Oklahoma Secretary of Transportation Gary Ridley. "I'm grateful that ODOT has the opportunity to work with Governor Fallin and the auto industry to cut costs and improve our operations."



In vehicles, CNG achieves nearly identical mileage figures as unleaded regular gasoline – with a retail cost more than 50 percent lower than the average price of a gallon of gasoline. The Ram 2500 CNG system was fully engineered and tested by Chrysler Group and assembled at the company's Heavy Duty truck plant in Saltillo, Mexico. Production of the Ram 2500 CNG began in late October in the Saltillo plant.

###

Additional information and news from Chrysler Group LLC is available at: http://www.media.chrysler.com