Bo looks for eggs in this video that represent the eggs being used in the White House Easter Egg Roll this morning including his own special egg with his paw print on the egg. Bo is so cute and if a puppy looking like him showed up at my door, Chewbaca (Chewie) would have another companion. Love dogs.
Love the videos of Bo - thought this was a good way to cap off the Easter weekend with a video of First Dog Bo looking for eggs.
One of our dogs, Sam, we had to watch carefully on Easter morning as he would track down the eggs before the kids got up. Looked out the window one Easter morning to watch Sam try to reach an egg that had been put in the tree. All of a sudden I realized he was about to get the egg and ran outside to rescue the egg only to find a pile of eggs that he had already collected - six of them in a pile - didn't try to eat one of them. Good thing the kids were still sleeping so Sam went with me when the eggs were rehidden. Then he came inside until the kids got up.

Our Brittany Spaniel, Eddie George, would have eaten every egg. Never would have let Eddie go in the same yard as the eggs as they would have been eaten by the most 'happy go lucky' dog you could ever have. They are bred as hunting dogs but Eddie used to hunting skills to track down flies. He used to bury his bones in my iris bed so I had to move them. Now I made a bed of iris yesterday in his yard dedicated to Eddie who died last fall at the age of 16. That is my tribute to Eddie and his bone burial place.

The look on Bo's face reminded me of Eddie when I saw him hunting for plastic eggs. Wonder what Bo would have done with real eggs - probably been like Eddie and eaten them.




Watching President Obama with Bo was one of the things that made me start looking into the allegations Republicans had made against him because no man can fake liking his dog which in my world means he is good man. Then I watch him with his family and the way he interacts with his daughters and Michelle which stopped me in my tracks. I had been wrong about the President. I am so happy I woke up to the fact that the Republicans will say and do anything against this President to score points with their donors and base. They are so out of touch today that I cannot believe I was ever a loyal Republican. It seems such a long time ago when it is not but my eyes thanks to First Dog Bo and a President who cares for people and animals are wide open to a man who loves this Country dearly and wants everyone to have an equal opportunity. That is my kind of President.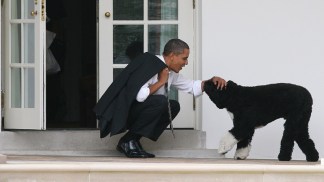 Bo is celebrating three years in the White House
Hope everyone had an enjoyable Easter - beautiful weather here in Norman for Easter Sunday with a cold front for three days headed our way later tonight and then normal temperatures arrive like we had on the weekend. Spring has officially broken out with no more frost forecast! Beautiful time of year with all the trees in bloom, spring flowers blooming, grass turning green and my garden seeds germinating with the peas coming up through the ground.
Back to politics tomorrow but for today enjoyed watching the videos on the White House website of the Easter Egg roll. Adrian Peterson, the great running back from the Oklahoma Sooners now the Minnesota Vikings, was there today at the White House to help celebrate the festivities of the day.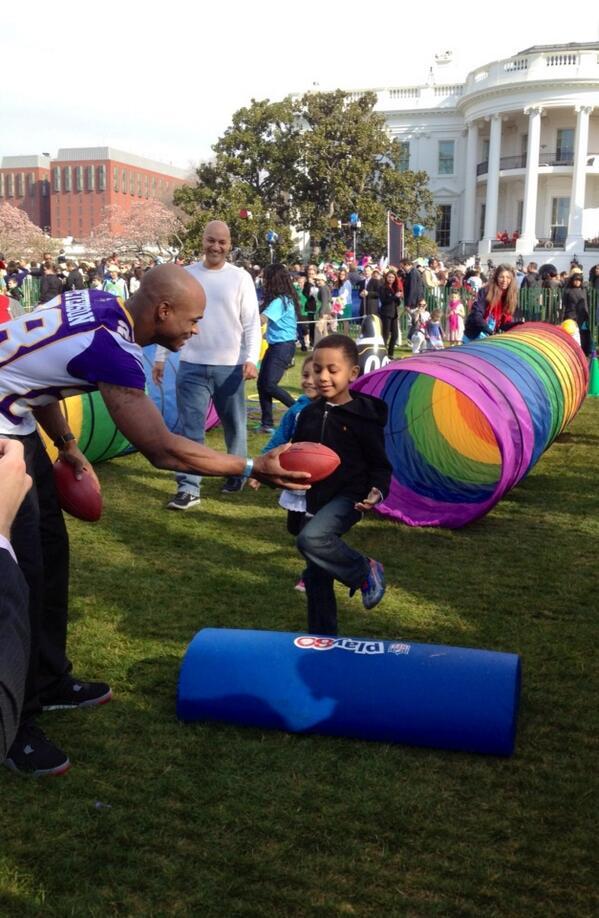 Have a wonderful rest of the day!